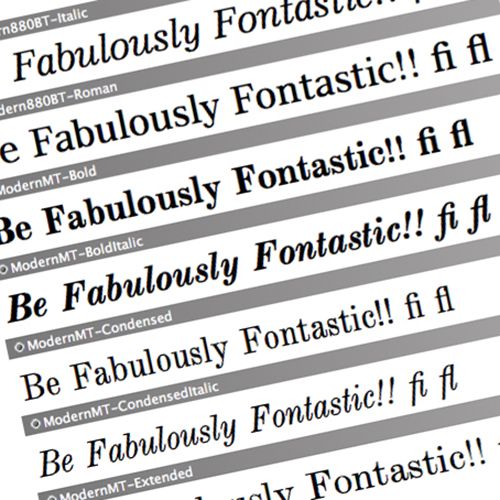 Recently I was invited to write a guest blog for freelancers helping them choose the right fonts for their projects and creating their own style. I am a bit of a font geek. Actually to be more precise, I am a typesetting typographic geek.
I realised a long time ago that designing also involved an awful lot of typing, now I loved the form of fonts – the ascenders, descenders, x-heights – but I wasn't the fastest on a keyboard. Off I trundled to teach myself to touch type, swiftly followed by an apprenticeship as a typesetter. For those that don't know, typesetters were the people who got the words into the correct fonts, at the correct sizes, to fit the areas designated for the text by the designers. A great skill for a designer to have I decided. And boy was I right. There is so much involved in getting type onto paper properly that most people (and dare I say it, a few designers too) really don't appreciate everything involved. The old traditional skill of typesetting, along with proof reading and proofreaders marks, is one that is on the endangered list. And we did all this without the help of our now faithful Macs.
Ligatures, n rules, m rules, widows and orphans – I get on my high horse (albeit with the aid of a step ladder being only 5′ on a good day) when these are not used correctly. For me the use of a ligature in the correct place says that the design or article has been put together with care, attention and skill.
Shift + Alt + 5 gives you the fi ligature on the  mac keyboard, Shift + Alt + 6 the fl ligature – try it out for yourself!
So don't just bosh it in place.
Don't just copy and paste from Word into Quark or Indesign or Illustrator.
Let's get the beauty back into the words. After all, someone took a lot of care, time and design effort to create and build a ligature into your computer fonts, don't let them be totally unloved!
This is a great resource for getting it right: http://typophile.com/files/typography_rules.pdf
Use it to interrogate your designs or articles to ensure they have been put together with thought and skill.
Expand your skill set, do more than just design with the colour and imagery, get your type right.
Here is the link to my guest blog if you wish to read further:
http://www.freelancefactfile.com/how-to-find-your-everyday-signature-font/
Do contact me if you want help with setting a font style for your business. Or maybe our business start up package is the place for you to begin your design journey.
I look forward to speaking to you soon.