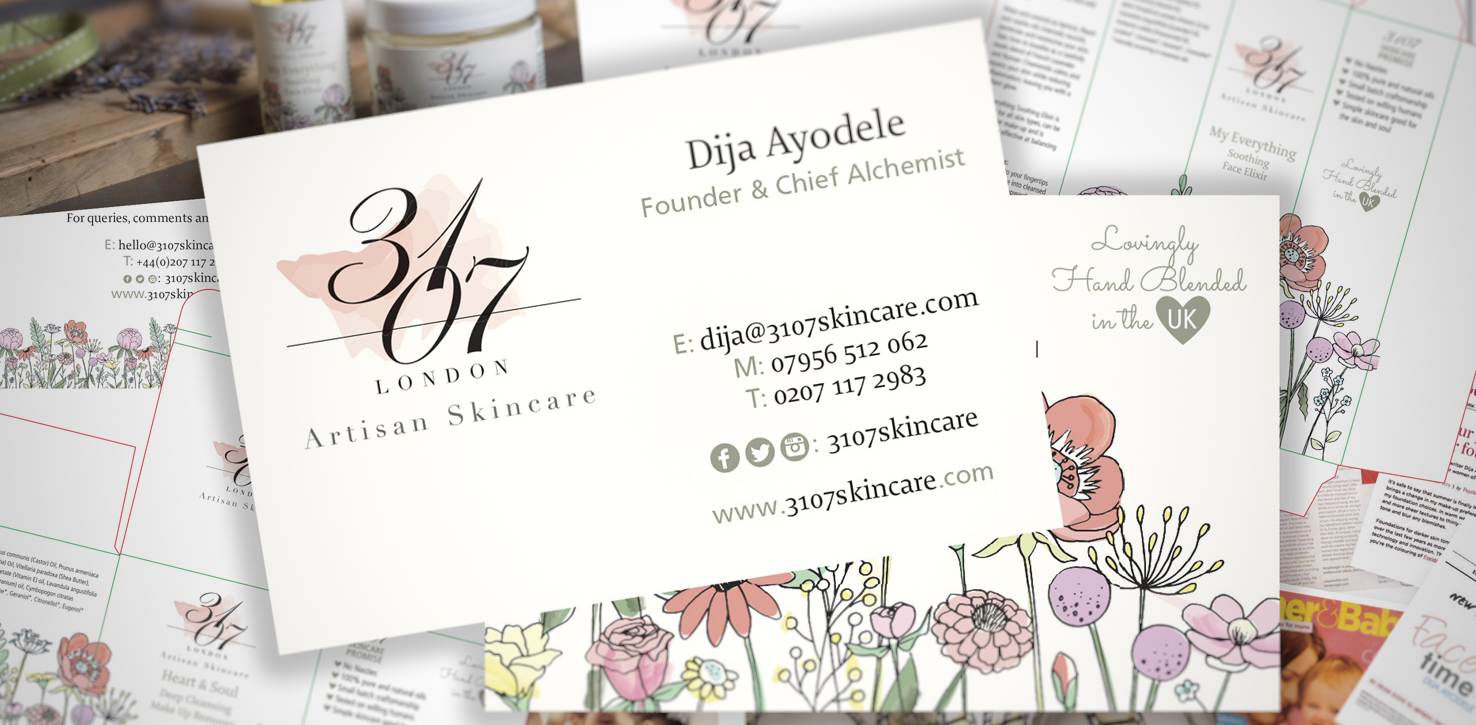 We are very excited to be the complete all-round design service for new skincare company, 3107 London Artisan Skincare. We've been there every step of the way with the owner and chief alchemist Dija Ayodele: 
"You guys have been ace, I can't start to tell you all the great feedback I've received".
A new beauty product, the story so far…
The Creative Haus were approached by the fantastic facialist, skincare specialist, and blogger, Dija Ayodele, to help create her new beauty product brand and all the elements that she needs to launch it into the retail market.
The logo and brand had partially been developed and we took it over, starting with the packaging. We needed to get a photographer in place to take the product shots required for the brochure, hooking Dija up with a great copywriter for all content, website, PR and marketing materials.
We designed and created the templates for her beautiful packaging and liaised with the supplier over materials, print methods, and finishes required. Then we created the other product boxes, building mock-ups for the client at every stage to ensure she was happy with the look and feel as they had to be perfect in every way. Dija values perfection, as do we!
Our supplier sent us samples, and the team worked on the stationery, to match the uncoated recycled and premium feel of the packaging.
Next came the brochure design, including all the newly commissioned gorgeous art directed photography. Dija used the brochure, as well as the mocked-up samples, to gain important meetings and feedback with top beauty experts in the press and retail sectors. Whoop whoop! The feedback was amazing, we got it spot on, no changes required.
And last but not least, we designed and built the website. It was to be clean, simple, pure, easy to use and navigate, with scaleable e-commerce – essential for business growth. Stripped down to the perfect ingredients, just like the products themselves! So we were very clear on the UX (user experience) required as it runs all the way through the brand from the smallest labels to the website, and the invites for the launch.
And best of all? The website was taking orders for the pre-launch of her gorgeous products within 24 hours! #RESULT!!
3107 London Artisan Skincare officially launches in March. We look forward to continuing our journey with Dija and her exciting products as the brand and range grows.